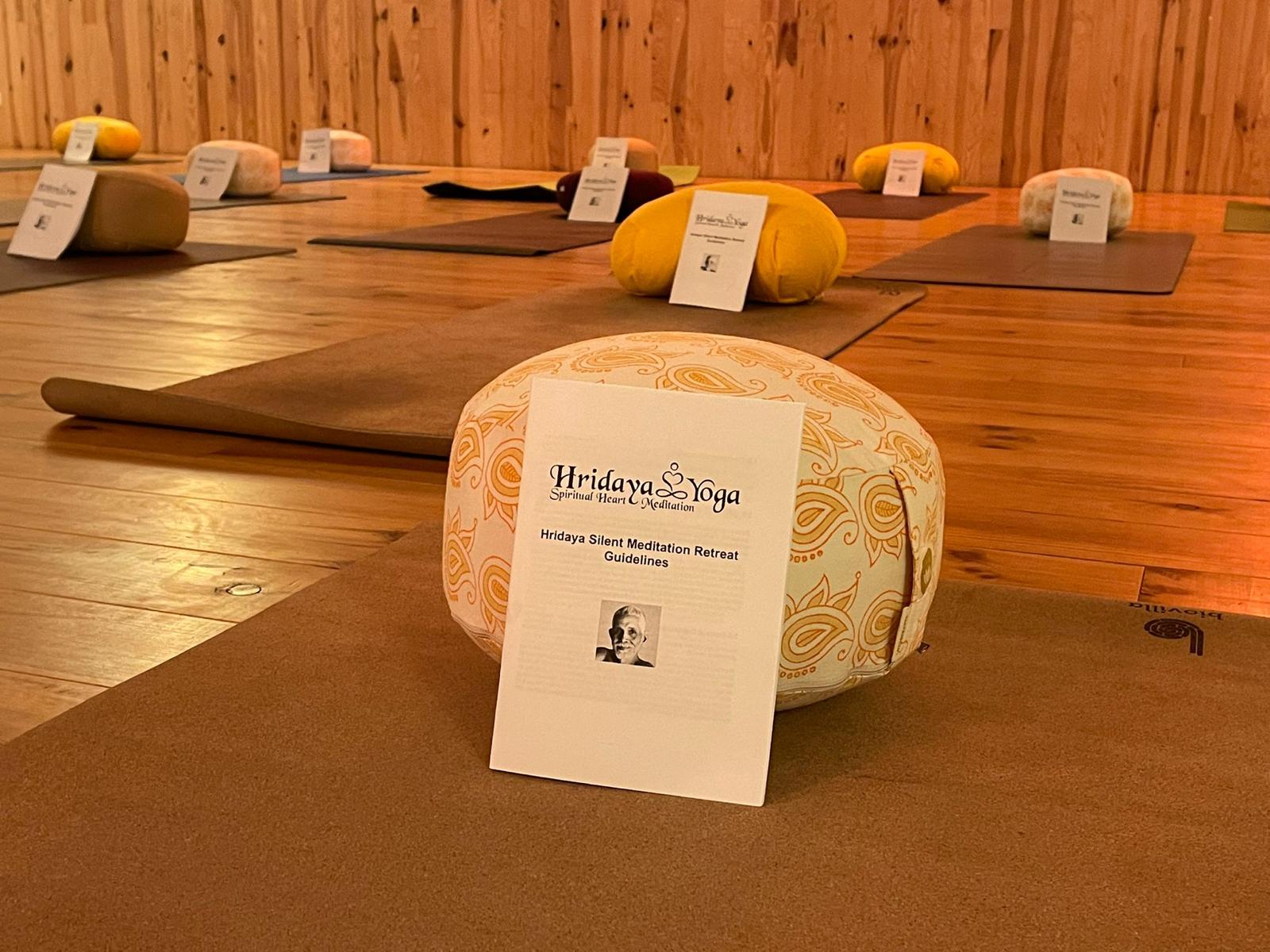 Hridaya Silent Meditation Retreat

(More info TBA)
About the event
"When the lips are silent, the Heart has a hundred tonges." – Rumi
During this 5 day Silent Hridaya Meditation retreat we will gradually explore the foundations of meditation practice, discovering the joy of Stillness and the intimacy of the Heart.
We will combine silent meditation sessions with Hridaya Hatha Yoga practice, teachings on meditation techniques and talks on inspiring spiritual topics, which are meant to support and bring insights into the meditation practice.
In this retreat we will mainly explore the teachings of Self Inquiry, as presented by Sri Ramana Maharsi. Embarking in the quest for the Self, the fundamental question, "Who am I?" Going beyond identifications, preconceived ideas, allowing the answer to be revealed in the Silence of the Heart.
Additionally, we will unique integration of different spiritual traditions such as Advaita Vedanta (non-duality), Yoga, Sufism, Tantra, Kashmir Shaivism, or Buddhism. All these precious ancient teachings are pointing towards the essence of our being, the essence of all that is.
During this retreat, in silence and introspection, resting in the present moment, we will create favorable conditions to open ourselves to the Spiritual Heart, recognize the depth of who we are. No previous meditation or yoga experience is necessary as this retreat is designed for beginner and advanced meditators alike.
The profits of this silent meditation retreat will be used for the creation of "Cave of the Heart", our dreamed small silent retreat center in south Portugal (see future updates of our website for more information).We can offer "low income discounts" for those who cannot afford the price of the retreat and have a genuine longing.
Registration
For registration, please fill up this form. You will receive an email with information to secure your spot with a 120 deposit.
Benefits
Stillness
Sacredness
Self-discovery
Loving awareness
What makes this retreat special
The self-enquiry method of Ramana Maharshi (using the question "Who am I?")
Techniques for stilling the mind using breath awareness
The symbolism of the spiritual heart
Methods of self-centering in everyday life
How to maintain awareness of the spiritual heart
Advaita Vedanta's fundamental principles
Daily themed meditations related to self-awareness
Poetry
Hridaya Hatha yoga sessions
Daily schedule
07:00 Meditation (beginning in shorter segments)
09:00 Breakfast
09:45 Lecture
11:00 Hatha yoga
12:30 Meditation
13:00 Lunch and rest
15:30 Meditation (beginning in shorter segments)
18:00 Dinner
19:00 Daily themed spiritual discourse and Q&A
20:45 Meditation
21:15 Night rest
Food
You will be served three healthy vegan yogic meals per day included in the price. Cave of the Heart will support vegetarian, dairy-free, nut-allergy-friendly, egg-free, and sugar conscious.
Accommodation
In shared dorms.
Price
€490
(5 day retreat, including 6 nights of accommodation, 3 vegan meals per day and course fee)
Registration
For registration, please fill up this form. You will receive an email with information to secure your spot with a 120 deposit.
"Love says 'I am everything.' Wisdom says 'I am nothing.' Between the two, my life flows."   
― Sri Nisargadatta Maharaj