SerVivo is a venue which holds space for human development. We created a space to share our vision with others. A place for retreats, events, classes, therapies and personal processes; supported by the connection with nature.
Located in a valley of the Natural Park of Arrábida, we are surrounded by a beautiful landscape. The tranquility and energy brings a sense of peace that allows rest, regeneration and transformation.
Today the co-living consists of 5 core team members and a fluctuating group of volunteers, together maintaining and improving the space. We share time, work, meditation, dance, communication, and many other practices which we believe will inspire and assist us and others in living a more connected, joyful and love-filled life.
We´re happy to inform you that after weeks of work, writing and brainstorming our crowdfunding campaign is online. And we are writing to each one of you to ask for your support.
After 6 months of buidling,with a lot of great helpers,the walls and big parts of the roof are done.We now need to install waterlines,a floor and an inner wall and of course a kitchen needs interior. Looking at that, we had to realize that we cannot earn enough money to cover the costs for the next building phase.
We decided to start a crowdfunding campaign, so all the effort was not in vain.
If you ever felt any special connection to SerVivo, please follow the link below to read about the project and give a little or big donation in order to support us in finishing our new ecobuilding kitchen. It would mean a lot to us and we appreciate every way of support.If you cannot afford a donation, you help us by spreading the word.
Thank you 🙏🏻 Your SerVivians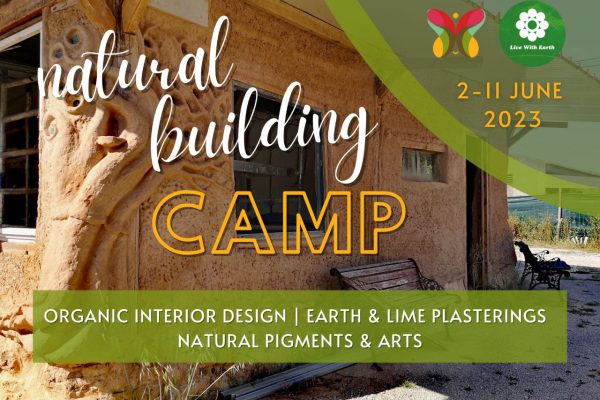 w/ Live With Earth & Ser Vivo
ORGANIC INTERIOR DESIGN | EARTH & LIME PLASTERINGS | NATURAL PIGMENTS & ARTS
During this course of 9 days we will have a professional training on Natural Building knowledge and techniques. Trainers Rui Vasques and Rodrigo Henriques, plus Cláudia Martins ( Arquiteta Descalça ) will teach us the whole process of construction of Ser Vivo's communitary kitchen that we started in October 2022.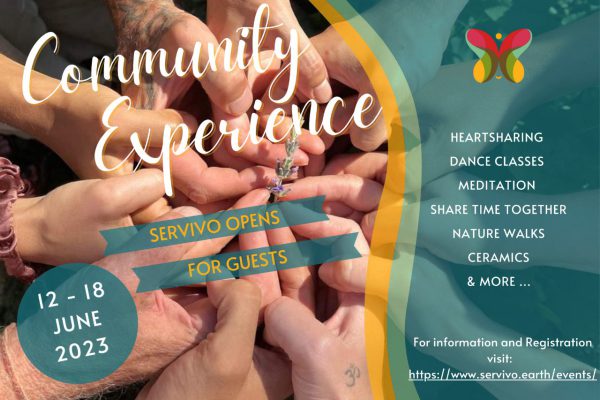 We are happy to welcome you for one week at our home to enjoy life with us in SerVivo.
Few times per year we open our doors to welcome guests. 
During this week you can experience our dynamic and heartful way of living and working together. 
We continue with our regular schedule, and besides that we offer a framework for you to explore yourself, with a diverse selection of practices, classes, get-togethers and sometimes events.
During this 5 day Silent Hridaya Meditation retreat we will gradually explore the foundations of meditation practice, discovering the joy of Stillness and the intimacy of the Heart.
We will combine silent meditation sessions with Hridaya Hatha Yoga practice, teachings on meditation techniques and talks on inspiring spiritual topics, which are meant to support and bring insights into the meditation practice.
In this retreat we will mainly explore the teachings of Self Inquiry, as presented by Sri Ramana Maharsi…
I visited SerVivo as part of a contact improv gathering. It was an amazing experience. The teachers were skilled and patient. The vegan and locally sourced food was simply delicious. What I enjoyed the most was the group experience that was built within the gathering. We were a big group of many amazing personalities, who bonded quickly and were there for each other. SerVivo showed me way of a simpler but emotionally richer life than what I am used to in the city.
What can I say..this place has taken such a big place in my heart. From the very first day, I felt so warmly welcomed by these amazing beings that I can call my second family now. The space is beautiful and there are interesting events, workshops and retreats happening regularly. I loved the community living here so much, that without doubt I'll be back next year! Thank you for making my month so magical, insight-rich and nurturing. Até já! Find out how to support us.