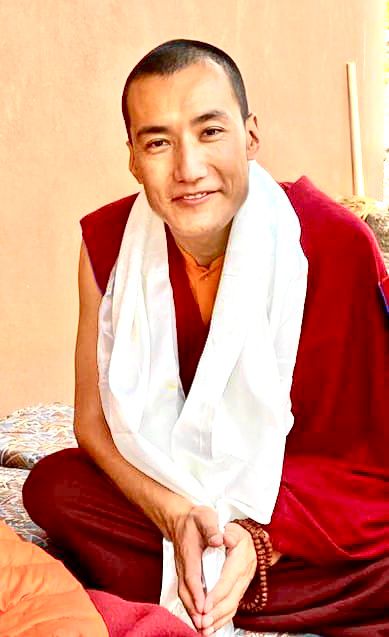 MEDITATION & CONSCIOUS MOVEMENT RETREAT
Move In Touch | Productions & SerVivo Community presents
• MEDITATION & CONSCIOUS MOVEMENT RETREAT •
weekend / 48 hours
with Lama Yeshe Gyatso Rinpoche (Meditation)
hosted by Pedro Paz (Reconnect Dance)
••• • •••
ABOUT THE RETREAT
This is an unparalleled and unforeseen opportunity to immerse yourself in a retreat of meditation and ancestral teachings, guided by a monk educated within an ancient and traditional lineage of venerable Tibetan masters.
This monk has the special characteristic of sharing, in the light of humanity's current challenges, the ancient wisdom he has inherited, thus helping to create bridges of understanding between this classic Eastern culture and the new generations influenced by Western "aspirations".
In other words, Lama Yeshe Gyatso Rinpoche invites us to expand the meditative practice on which his teachings are based, from his contemporary perspective on human development.
•••
During this retreat, he will also do so through the experience of "Conscious and Interactive Movement" with the support of Pedro Paz, who will lead two sessions specially integrated with the purpose of Inner Peace.
These proprioceptive sessions (based on the perception of oneself) will be like a balm for the body and the mind, which will rediscover itself as less expectant or controlling and more available to contemplate the miracle that is to exist.
•••
Lama Yeshe Gyatso Rinpoche
Born in Tibet within the precious Kyung Family lineage. This family gave birth to many major masters of the past and contemporary ones too, including masters from the Zhang Zhung Moyen Gyud, and even some kings.
During 18 years Rinpoche studied in Nepal and India – dialectics, Sutra, Tantra and Dzogchen which is also known as "Great Perfection".
In 2021 he obtained his title of Geshe, equivalent to a PHD, from the Menri Monastery in India.
Joining the theory with his personal practice, Rinpoche already completed some of the main traditional retreats, such as preliminary retreat when he was a child – Tumo – and the 49 days dark retreat. He is also giving an exemple of the compassion in action throughout his humanitary actions. For the first time in Europe, it will be a privilege to host him in Portugal.
••• • •••
PROGRAM
*Friday, 22 September *
• 15h > 17h – arrival, check-in and accommodation
• 17h30 > 18h30 – Welcome Meditation with Lama Rinpoche
• 19h – dinner
• 20h30 – Opening Ceremony- retreat presentation and guidelines by Pedro Paz + first introduction speech by the Lama Rinpoche
Saturday, 23 September
• 7h30 – wake up call
• 8h > 9h – Meditation
• 9h – breakfast
• 10h30 > 13h – Teachings and Practices with the Lama Rinpoche
• 13h – lunch
• 15h > 17h – Teachings and Practices with the Lama Rinpoche
• 17h – Nature Immersion
• 19h – dinner
• 20h30 > 22h – Conscious Movement & Playful Interactions with Pedro Paz
Sunday, 24 September
• 7h30 – wake up call
• 8h > 9h – Meditation
• 9h – breakfast
• 10h30 > 13h30 – Teachings and Practices with the Lama Rinpoche
• 13h30 – lunch
• 15h30 > 17h – The Unified Field of Dance with Pedro Paz
• 17h – Closing Ceremony
• 18h – Farewell Snack and Check Out
••• • •••
NOTICE!
– This retreat will be guided in English and will mainly be experienced within a social silence (avoiding the use of spoken word and phone);
– bring comfortable clothes;
– food will be vegan with dairy and egg options;
– accommodation is in dormitories or in your own tent or caravan (same costs)
••• • •••
COST AND CONTRIBUTION
A weekend retreat costs an average of €300.
Given the spiritual purpose of this retreat, the cost will be only half the usual – €150, which corresponds to the logistical expenses, as renting the venue, catering service and production costs.
The other half, intended for the teachers, is left to the discretion of each participant as a conscious donation, offered at the end of the retreat.
______________
2 days / 48h = €150 (€75/day) + donation for teachers
______________
+ infos & booking:

+351925872344