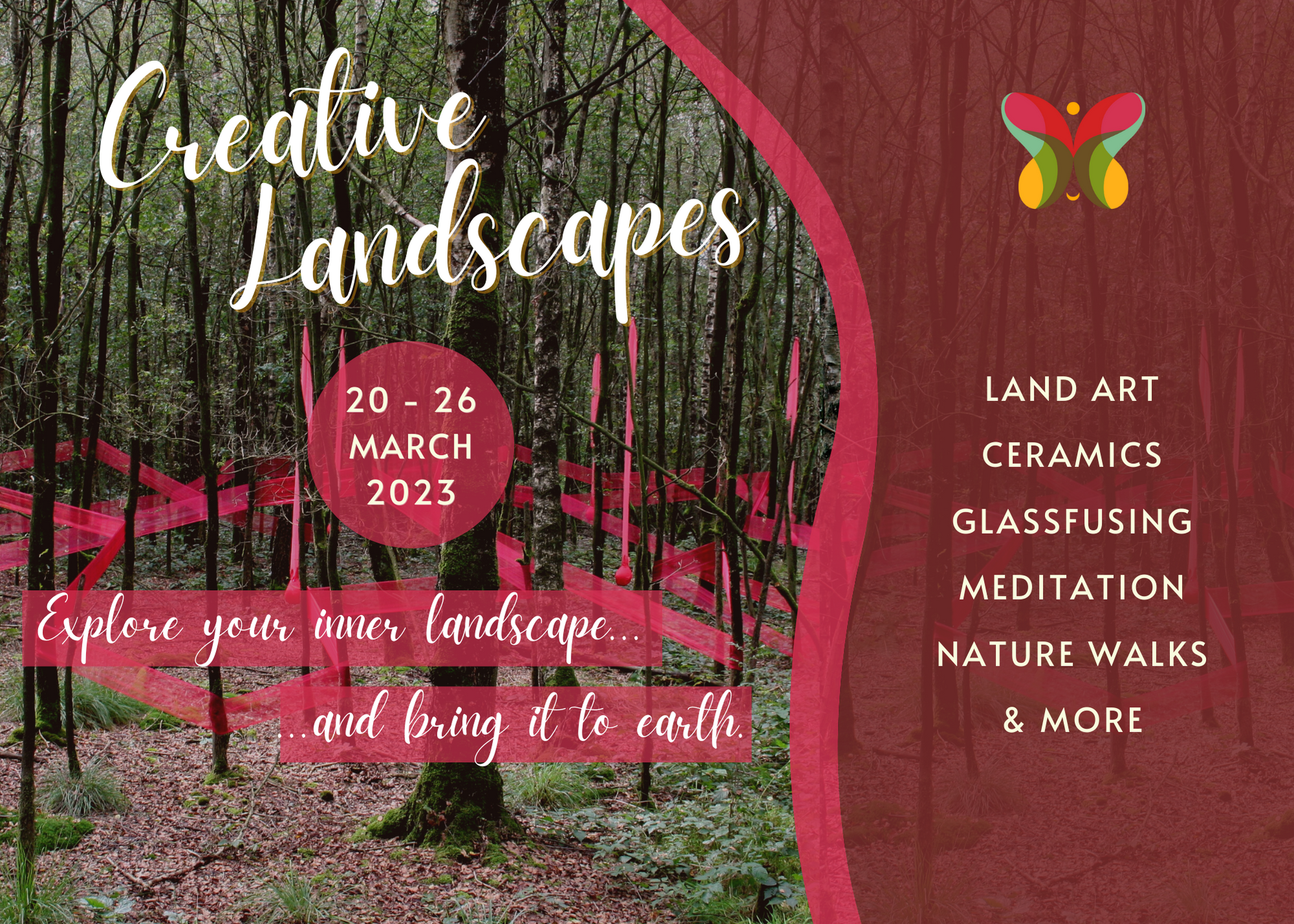 Creative Landscapes in SerVivo
Explore your inner landscape and bring it to nature.
LandArt  – Create art in nature by connecting with it and yourself.

guided by Marjorie Slooff
For this week we invite you to dive deep into a creative journey. By grounding in Servivo with its community and nature around, we´ll support you to explore your inner world and find access to another level of creativity. 
Creativity has many forms of expressions. In and around SerVivo we'll implement your inner reflections and ideas into visual and touchable matters, mainly through:
LandArt

or Installation Art. This kind of spatial art includes the surroundings like nature, landscape. Here Art can be made of all kinds of materials like natural materials or trashy things.
But also through:
Sketches, drawings

Ceramics and Glassfusing. The atelier of SerVivo will be open for creations in clay and glass.

Dance, Movement

Poetry, Voice

Sculptures
Whatever it is that brings your creativity to the surface. Everything is real. There are NO limitations. 
Let's bring it from the inside to the outside.
Practical details:
12 participants ( min. 8 )

Price for the whole week: 

300 € Workshops (basic materials are included up to 25 € per person) 

105€ Food  (3 vegan/vegetarian and healthy meals per day)

120 € Accommodation in dormitory/use of the whole space (You can also look for a private accommodation in the neighborhood -> such as BioVilla, AirBnB, etc.)
Total: 525 €
+ 60€ for a Private space in SerVivo (Room or Caravan – limited)
Framework/Inspirations:
LandArt

Silent / active meditations

Breathwork

Nature walk

Inspiration Day

Ceramics/Glasfusing

Movement
Daily schedule (will vary-just to give you an idea):
7h30 – 8h30 early morning session

9h00 – 10h00 breakfast

10h30 – 13h00 morning session

13h00 – 15h30 lunch and break (time for personal reflection)

15h30 – 18h00 afternoon session

18h00 dinner

19h30 free evening program
There are differences on Arrival and Departure day, Inspiration Day and Saturday.
What to bring:
proper walking shoes
swimming suit
a hat for the sun
something to write/draw
Registration/Communication:
Follow this link to start with the registration.
https://forms.gle/2xdqWghzpHKXN4217
Further communication takes place via Marjorie. So if you have any questions you can contact here via email . Also check her brand new homepage:) http://marjorieslooff.nl/ .
Marjorie will be supported by:
Saija Jäntti -> https://www.instagram.com/saijajantti1/
Margarida Batista -> https://www.facebook.com/guida.batista2
Sabrina Klocke -> https://www.instagram.com/sabrina.klara.official/