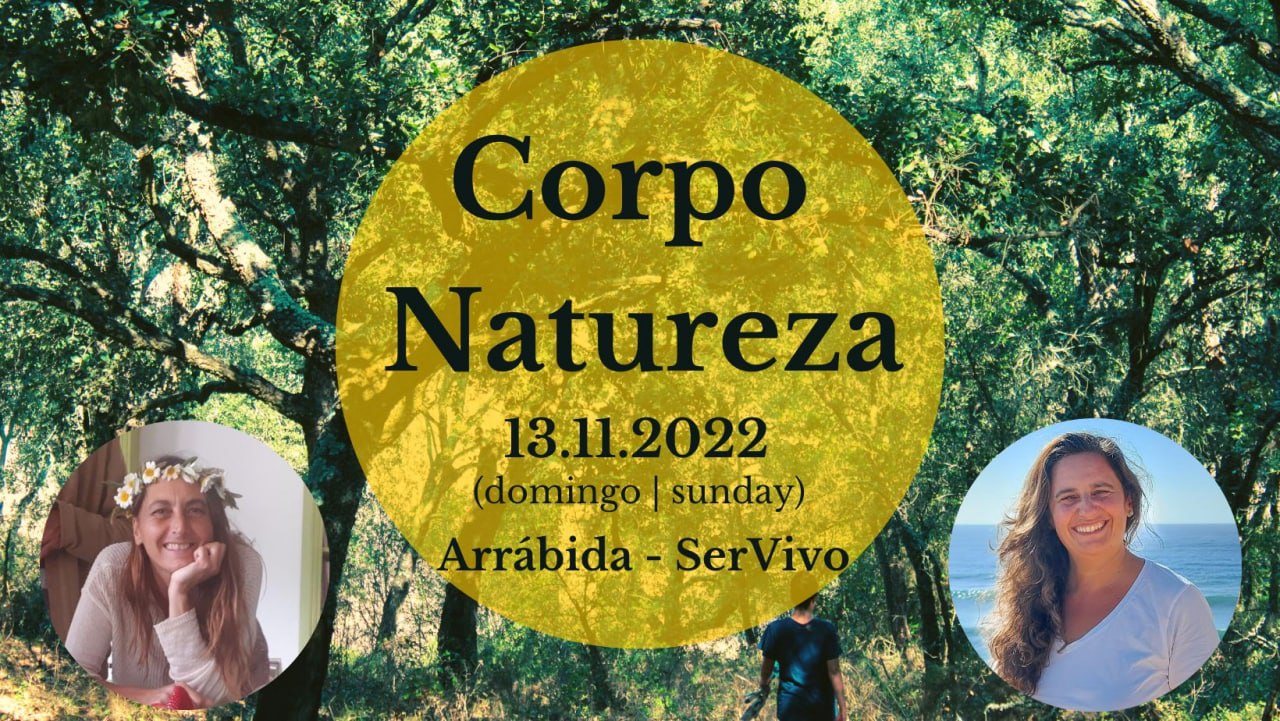 Corpo Natureza
Contribuição | contribution:
entre 44 euros e 66 euros
(inclui almoço vegano simples | vegan simple lunch included)
+ info e inscrições: | +351 913 464 899
Esta é uma experiência profunda de conexão com a natureza, onde te vais reconectar contigo próprio e com a tua essência, num ambiente seguro.
Criamos experiências que te levam a estados de presença profunda. Utilizamos a natureza como ferramenta para silenciar a tua mente, através da ativação dos sentidos. Através da tua criatividade podes expressar a tua experiência. No final oferecemos uma viagem sensorial, através de sons, cheiros, toque e relaxamento. Podes ainda saborear um almoço leve vegano, cheio de sabor e cor.
**~~***
This is a deep experience of connection with nature, where you will reconnect with yourself and your essence, in a safe environment.
We create experiences that take you into states of deep presence. We use nature as a tool to silence your mind, through the activation of the senses. Through your creativity you can express your experience. In the end, we offer a sensorial journey, through sounds, smells, touch and relaxation. You can also enjoy a light vegan lunch, full of flavor and color.
Programa | Programe
10h30 – Acolhimento | Welcoming
11h00 – QiGong* para ativar e chegar ao teu corpo | QiGong* to activate and arrive into your body
11h45 – Viagem Meditativa para ativação dos Sentidos na Natureza | Meditative Journey to activate the Senses in the Nature
14h00 – Almoço Vegano | Vegan Lunch
15h00 – Ativar a tua criatividade, relembrando a experiência da manhã. Usaremos como ferramentas de expressão: escrita criativa, movimento e pintura. | Activate your creativity, remembering the morning experience. We will use as tools of expression: creative writing, movement and painting.
17h00 – Meditação de Relaxamento Sensorial | Sensorial Relaxation Meditation
17h30 – Círculo de Partilha e fecho | Sharing Circle and Closing
*Qi Gong (Chi Kung)
É uma prática milenar com origem no oriente, que pretende equilibrar e harmonizar a energia vital no corpo, na mente e no espírito, usando movimentos corporais lentos e suaves, em sintonia com a respiração.
*Qi Gong (Chi Kung)
It is an ancient practice with origins in the East, which aims to balance and harmonize vital energy in the body, mind and spirit, using slow and smooth body movements, tunning with the breath.
Sobre nós:
»Margarida Batista
Margarida, é uma amante da natureza, dos seus cheiros, sons e cores. Quando era criança adorava ficar a observar formigas nos seus múltiplos movimentos. Gosta de brincar e trazer alegria a todos aqueles que toca, como consequência, trabalhou em hospitais durante 7 anos como doutora palhaça. Simultaneamente desenvolveu programas de férias para crianças, na natureza. Co-fundou o Espaço SerVivo, que trabalha para o desenvolvimento do potencial humano através das artes e conexão com a natureza. Sempre teve muito interesse e fascínio em compreender como o ser humano se pode tornar mais equilibrado nas suas relações consigo próprio, com os outros e o com o seu ambiente.
A sua vida adulta tem sido dedicada ao seu próprio desenvolvimento. Durante esse percurso adquiriu uma série de ferramentas e experiências, que agora partilha com os outros, através dos workshops, atividades e sessões que tem criado ao longo dos anos.
»Cláudia Freches
A Cláudia, estudou Publicidade e Marketing, mas era Psicologia que queria ter estudado, porque sempre sentiu um grande fascínio pela mente humana. Desde menina que se lembra de ficar a observar os comportamentos das pessoas. De ficar em silêncio e de sentir um turbilhão de emoções com as quais não sabia muito bem como lidar.
Passou boa parte da sua vida profissional na indústria dos livros.
Há cerca de 14 anos, o Chi Kung (QiGong) surge no seu caminho, através da Associação Daoista de Portugal, e todas as práticas Daoistas começaram a abrir a consciência, para algo maior que ressoava dentro de si, e ajudaram a responder a algumas das suas inquietações.
Tem o sonho desde menina de ajudar a espalhar alegria, amor, leveza no viver. Para isso há alguns anos percebeu que tinha de começar por se conhecer melhor e nessa tentativa, vai recorrendo a ferramentas como o QiGong, a dança, respiração consciente, imersão na natureza, astrologia, meditações activas… Numa constante tentativa de chegar a si para poder estar mais presente em si e para os outros.
**~~**
About us:
»Margarida Batista
Margarida is a nature lover, its smells, sounds and colors. When she was a child loved to watch ants in their multiple movements. She likes to play and bring joy to everyone she touches, as a result, she worked in hospitals for 7 years as a clown doctor. Simultaneously, it developed holiday programs for children, in nature. Co-founded Espaço SerVivo, which works for the development of human potential through the arts and connection with nature. She has always been very interested and fascinated in understanding how human beings can become more balanced in their relationships with themselves, with others and with their environment.
Her adult life has been devoted to her own development. During this journey, she acquired a series of tools and experiences, which she now shares with others, through the workshops, activities and sessions she has created over the years.
»Cláudia Freches
Cláudia studied Advertising and Marketing, but it was Psychology that she wanted to study, because she always felt a great fascination for the human mind. Ever since she was a little girl, she remembers watching people's behavior. And being silent, feeling a whirlwind of emotions that she didn't quite know how to deal with.
She spent much of her professional life in the book industry.
About 14 years ago, Chi Kung (QiGong) came your way, through the Associação Daoista de Portugal, and all Daoist practices began to open consciousness, to something greater that resonated within her, and helped to respond to some of her concerns.
She has dreamed since she was a little girl of helping to spread joy, love, lightness in life. For this, a few years ago she realized that she had to start by getting to know herself better and in this attempt, she uses tools such as QiGong, dance, conscious breathing, immersion in nature, astrology, active meditations… In a constant attempt to be more present in herself and for others.