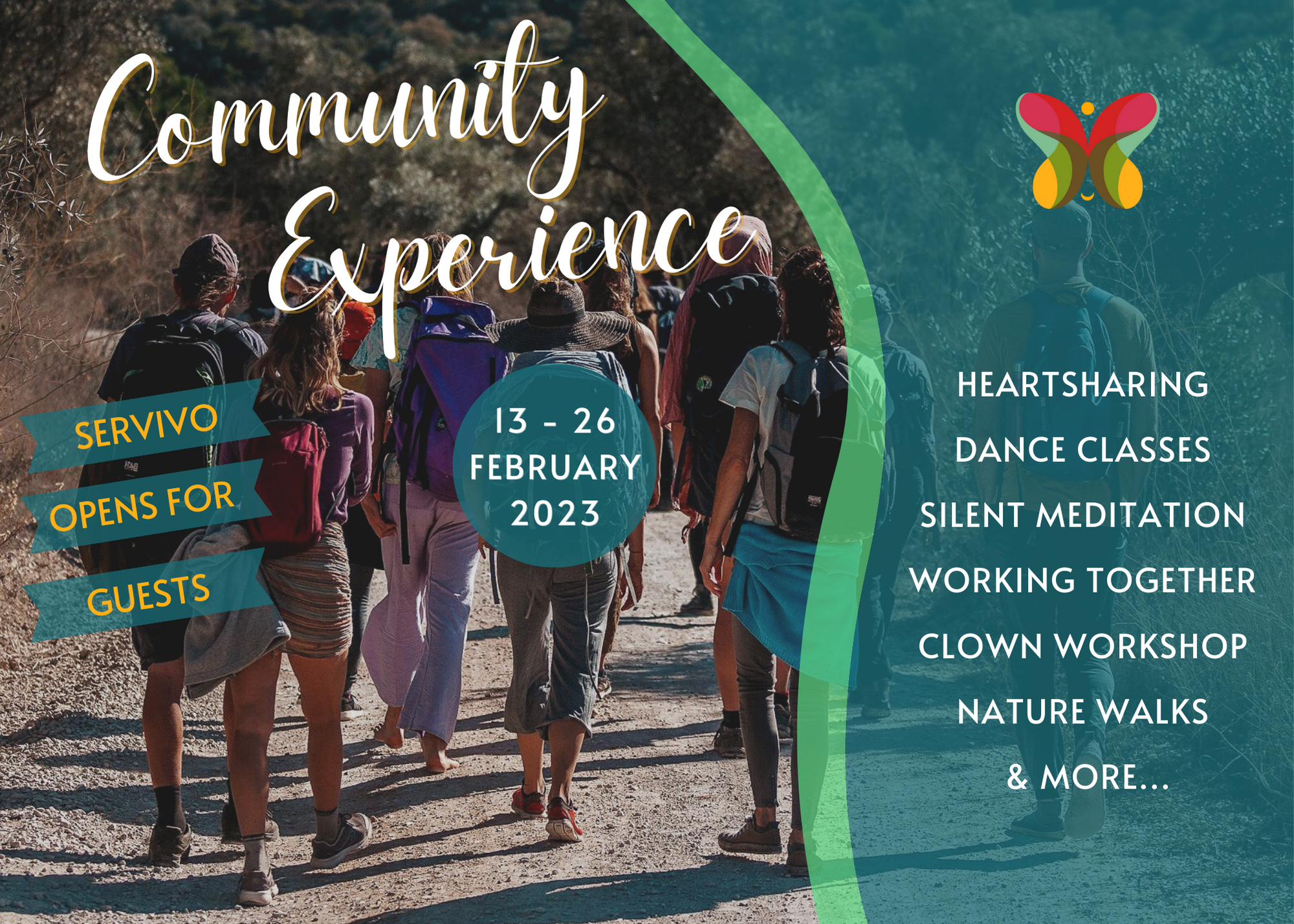 Community Experience
We are happy to welcome you for two weeks, or shorter, and enjoy life in SerVivo. Few times per year we open our doors to welcome guests. During these weeks you can experience our dynamic and heartful way of living and working. We continue with our regular schedule, and besides that we offer a framework for you to explore yourself, with a diverse selection of practices, classes, get-togethers and sometimes events.
✦ Framework ✦
– Morning sessions (Mon – Fri ) – silent/active meditation or breathwork
– Working together
– Heartsharing
– Dance classes
– Bonfire Singing circle
– CI Jams
– Movie night
– Nature walk
– Women Circle/Men Circle
– Concert
– Open stage
– Ceramics Workshops
– Clown Workshop
✦ Daily schedule (week-days) ✦
7h30 – 8h30 morning session – silent/active meditation or breathwork
9h30 – 10h30 Volunteer meeting
10h30 – 13h30 Volunteer working hours
13h30 communal lunch (vegan and delicious)
During our volunteer hours you are free to join the work or not.
In the afternoons and evenings you can join an activity or enjoy yourself at home or in the beautiful nature surrounding SerVivo. Some of the most beautiful beaches of Portugal are within 30 min. distance. Also village Palmela and city Setubal are nearby and nice to explore.
✦ Minimum stay ✦
The minimum stay is 1-week. You may arrive on any date, but latest on the 20th of February.
✦ Contributions for 1 week ✦
*These prices include 6 nights + all meals + weekly dance classes + morning sessions + heartsharings + nature walk + bonfire + open Stage
– Private space → €270
– Shared dormitory → €210
– Own van/tent → €180
✦ Wish to stay few days longer? ✦
– €35 per day
✦ Extra´s ✦
– 17.02. Women circle w/ Sabrina, Saija, Guida and Men circle w/ Robert→ Free donation
– 19.02. Ceramics Workshop w/ Marjorie → €15 + material costs and firing
– 24.02. Concert w/ + Dinner → €25 (€15 only concert)
– 25.2. Clown workshop w/ Saija → €35
– 26.02. Ceramics Workshop w/ Marjorie → €15 + material costs and firing
Pick up from Bus/Train Station in Palmela → €5
✦ Food ✦
Our meals are vegan and mostly gluten free. During the week we eat lunch all together. Breakfast, dinner and weekend lunches are self-managed, for which communal food can be used.
✦ Therapies ✦
There are also several therapist available in the house:
– Marjorie is a physiotherapist and offers massages.
– Saija can offer Healing sessions.
– Sabrina as LifeTrustCoach can be your mental and emotional support in your human development.
– Margarida offers chakra harmonization and regression sessions.
These sessions can be booked as an extra during your stay ( 45€ per session )
✦ Registration ✦
Follow this LINK to start with the registration
Looking forward to welcome you in our home!