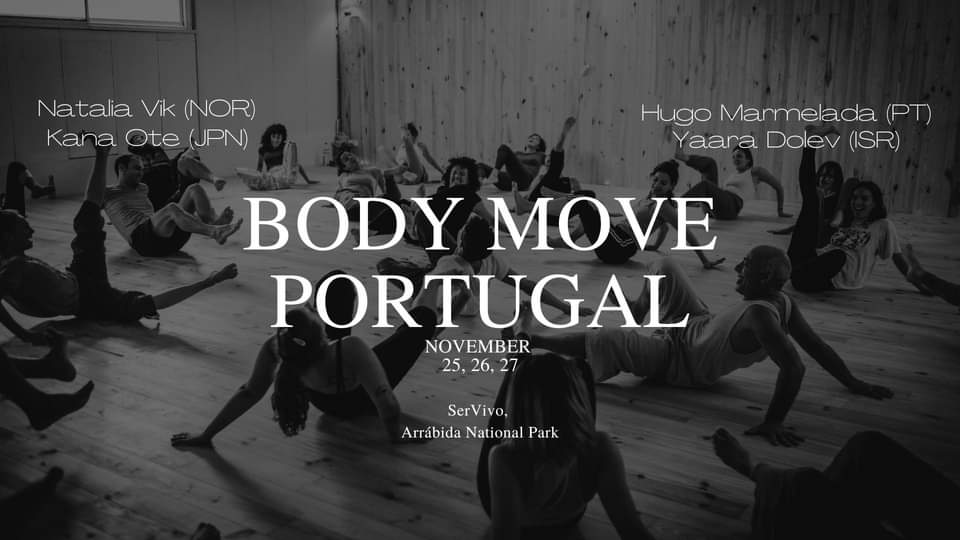 Body Move Portugal
Welcome to an intensive weekend of movement research in the beautiful surroundings of Arrábida Natural Park, at SerVivo: a community, retreat and event centre.
This event is hosted by 4 international certified Gaga teachers, dancers and creators.
We will explore movement through different tools and approaches, such as Gaga classes, repertoire from the teacher's personal work and dance sessions with a blend of the theacher's practices and styles, such as a taste of Hip-Hop, Qui-Gong and contemporary dance.
There will be time to connect in nature and in the movement jams in the evenings.
What is Gaga/Gaga People?
Gaga Movement language is a movement language and pedagogy developed by Batsheva Dance Company director and teacher Ohad Naharin, from Israel.
Gaga People is a movement journey for users to connect to their bodies and imagination, experience physical sensations, improve their flexibility and stamina and enjoy the pleasure of movement in a welcoming, accepting atmosphere. Gaga People is designed for the general public and requires no dance training.
This weekend intensive is open to all, with or without any movement background!
::PRICES::
There are 6 Helper-Volunteer spots available with reduced price. Contact for info on price!
EARLY BIRDS: 22nd October
ONLY MOVEMENT SESSIONS (workshop):
*First 5 inscriptions: 190€
*Early-Bird: 220€
*Regular price: 250€
MOVEMENT SESSIONS + MEALS:
*First 5 inscriptions: 265€
*Early-Bird: 295€
*Regular price: 325€
MOVEMENT SESSIONS + MEALS + ACCOMMODATION (full experience):
*First 5 inscriptions: 285€
*Early-Bird: 315€
*Regular price: 345€
::DROP IN PRICES::
*Single Gaga Class: 15€
*Repertoire session: 20€
*Repertoire + Gaga: 30€
*3 optional classes over 2/3 days: Sliding scale 50-70€
*1 day movement: 100€ – 125€ with meals included
*2 day movement: 180€ – 230€ with meals – 240€ with meals and accommodation
:: Schedule – Weekend Skeleton::
DAY 1
10-12h – Arrival + Registration
12-12h30 – Opening Circle
13-14h – Lunch
15-16h – Gaga/people
16h15-17h45 – Repertoire
19-20h – Dinner
20h30-22h – Jam
DAY 2
9-9h30 – Stretch class
9h30-10h30 – Gaga/people
10h30-11h15 – Light Breakfast
11h15-12h45 – Repertoire
13-14h – Lunch
14-16h – Break
16h – 18h Contact impro class
19h00 – 20h00 Dinner
20h30 – CARNIVAL JAM (bring your own original style into the dancefloor, become more then you are!)
DAY 3
9-9h30 – Stretch class
9h30-10h30 – Gaga/people
10h30-11h30 – Breakfast
11h45-13h15 – Repertoire
13h30-14h30 – Light Lunch
15-16h – Hip hop class
16h-16h30 – Closing circle
16h45-17h45 – Farewell Early Dinner Party
::CONTACT::
To receive more in depth information, for any inquiries and registration:

Warm Welcome to everyBody !
The Body Move team,
Hugo Marmelada (PT): Teacher
Kana Ote (JPN): Teacher
Natalia Vik (NOR): Teacher
Yaara Dolev (IRS): Teacher
Carlota Oliveira (PT): Back-Office