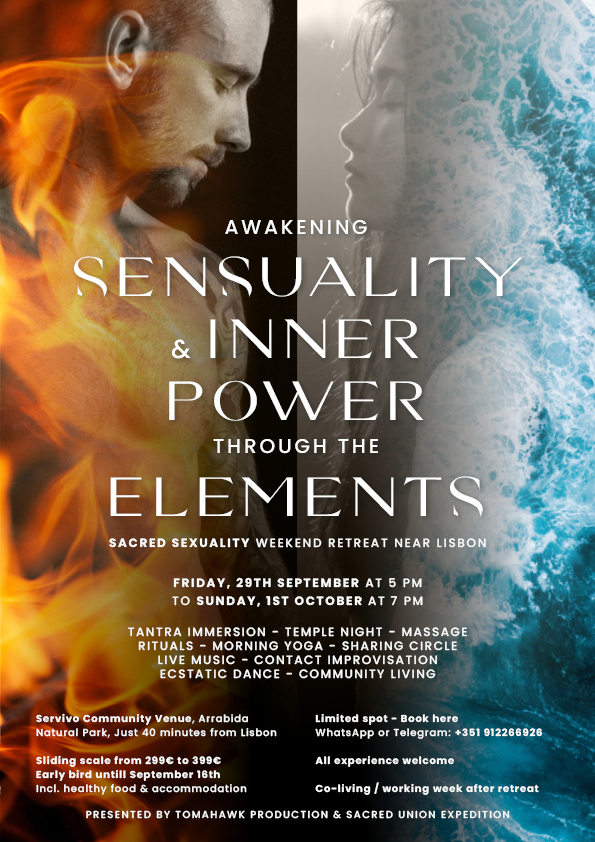 Sacred Sexuality Weekend Retreat
Awakening Sensuality & Inner Power through the Elements
Unlock the dormant energies within you, rejuvenate your senses, and forge deep connections as you journey with us in a transformative retreat. Mingle with the sacred elements – water, earth, air, and fire – and let them guide you to deeper understanding, profound sensuality, and inner strength. Tomahawk Production & Sacred Union Expedition & Co-Creators invite you for a life-altering experience.
🗓 When? Friday, 29th September @ 5 pm to Sunday, 1st October @ 7 pm
📍 Where? Nestled within the serene embrace of the Arrabida Natural Park near Palmela, at Servivo. Just 40 minutes from Lisbon.
✨ Highlights:
Dynamic Sensual Massage to ignite your senses
Enchanting Tantric Ceremonies & CI- inspired Temple Night
Blissful Ecstatic Dance Sessions by the pool for uninhibited expression
Revitalizing Yoga & Breathwork to nourish the soul
Harmonious Singing to forge connections
Deep Heart-to-Heart sharings and divine rituals
📋 Who's Facilitating?
Sacred Union Expedition : Journey to Unity and Tantra with Filipa Botelho Moniz & Thomas Loffet
Nia Lejander : Melodic Maestro of Playful Harmonies
Yentl Tsemah : The Culinary Alchemist
Eyal Siri / Chakana : for rhythmic enchantment
Rajan Alex : for documenting our transformative journey
🍴 Savor Nature's Bounty: Delight in vegetarian/vegan, gluten-free dishes made with love, from locally-sourced, organic ingredients. Enjoy daily brunches, lunches, snacks and more!
💰 Sliding Scale Pricing: include food and accommodation
🪺 Early Bird first 6 sign-ups    299€
🌿 Nurtured Seed       333€
🍃 Flourishing Blossom     366€
🌳 Guardian Tree      399€
🏡 Accommodation option for more privacy : Options range from the dorms or own tent/van to private rooms in luxurious villa. Choices available to fit your comfort and preference.
Contact: Filipa +351 912 266 926
🔗 For detailed information, schedules, facilitators, and more, refer to the following link on:
For registration, please fill out the form here https://forms.gle/SYSvZVbdUmD1Ndbz8
Facebook  event https://fb.me/e/V5UgRnUP
✉️  Telegram: https://t.me/+E7GRaoEPVDM2NzVh
✉️  Whatsapp: https://chat.whatsapp.com/ByeVqRtUkpQ1EgRwRJkmak
⚙️Option for Co-living/working and special day event on Saturday October 07th
Join our 'Co-living & Loving' week from October 1st-9th. Highlight on October 7th, experience tantric rituals, cacao ceremony & ecstatic dance, sound healing, and a music circle. Open to all. Let's dive into community, exploration, and celebration!