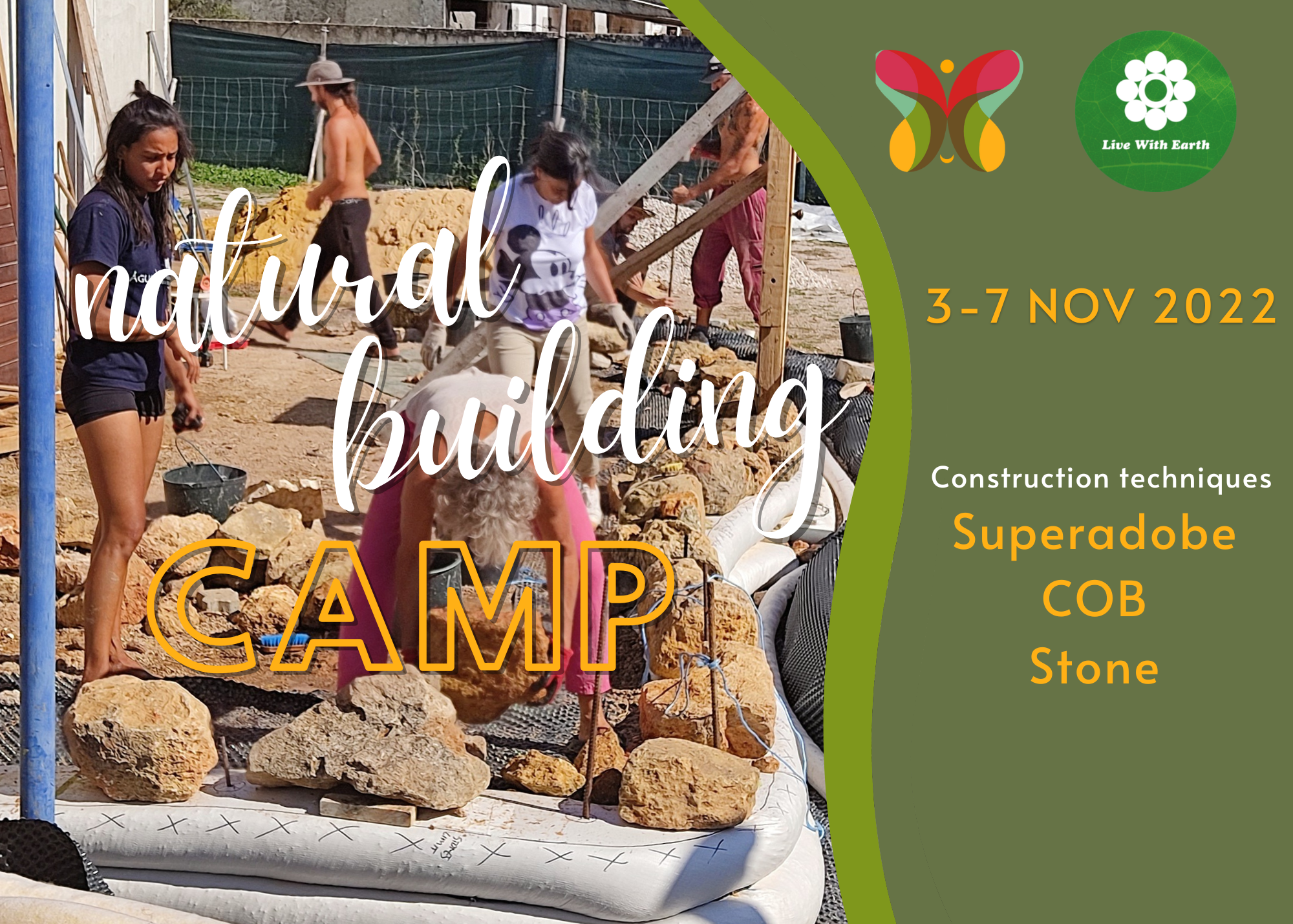 Natural Building Camp
🍀 Trainers: Rodrigo Henriques & Rui Vasques
🍀 Project: Community Kitchen
🍀 You will learn:
– Stone and Earth Construction
– Superadobe & COB techniques
🍀 Description:
With all the conditions prepared, and the Ser Vivo community motivated to continue this collaborative process, in connection with nature, with ourselves and with the persons around us, we spread this Camp, in partnership with Live With Earth Organization.
If you are looking for a lifechanging experience, join us for this co-creative 5-day camp, where we will continue building a community kitchen for Ser Vivo, from scratch, using mainly local materials, with Natural Building / Bioconstruction techniques, such as Superadobe, Stone, COB, wood structure, and other sustainable approaches.
Being part of this process, you will learn with theory and practice, about most of the techniques of natural building and their process for construction of a small house/shelter, being empowered to design and build your own projects.
We believe in the power of community, when human beings get together with the same objective, and pure magic happen. Including the participants in the daily practices like morning activities, human circles, healthy vegetarian meals, and others, we want to welcome you to this place and to this inspiring project.
The community kitchen will nourish so many persons in future, and together, we will make it happen in a conscious, healthy, funny and ecological way.
Grab your place for this exclusive offer and opportunity. (limited places)
We wish to see you here with us!
With Love,
Let's Live With Earth
🍀 Program
3 November:
11h00 – Arrival and introduction
13h30 – Lunch
15h00 – Afternoon session
19h30 – Contact Jam
4, 5, 6 & 7 November:
09h00 – Breakfast
09h30 – Opening Circle
10h00 – Morning session (practice)
13h30 – Lunch
15h00 – Afternoon session
🍀 Contribution
Full 5-day participation:
Early bird – €180 (till 24 October)
Regular – €230
1-day participation – €40
*Includes the training + all meals + accommodation in shared room/ camping area
Reservations Form:
https://forms.gle/VTkxxcn5vf4C13aSA
🍀 Contact us for questions / reservations
Training:

https://www.livewithearth.org/
Host:

Facebook event:
shorturl.at/eivF4