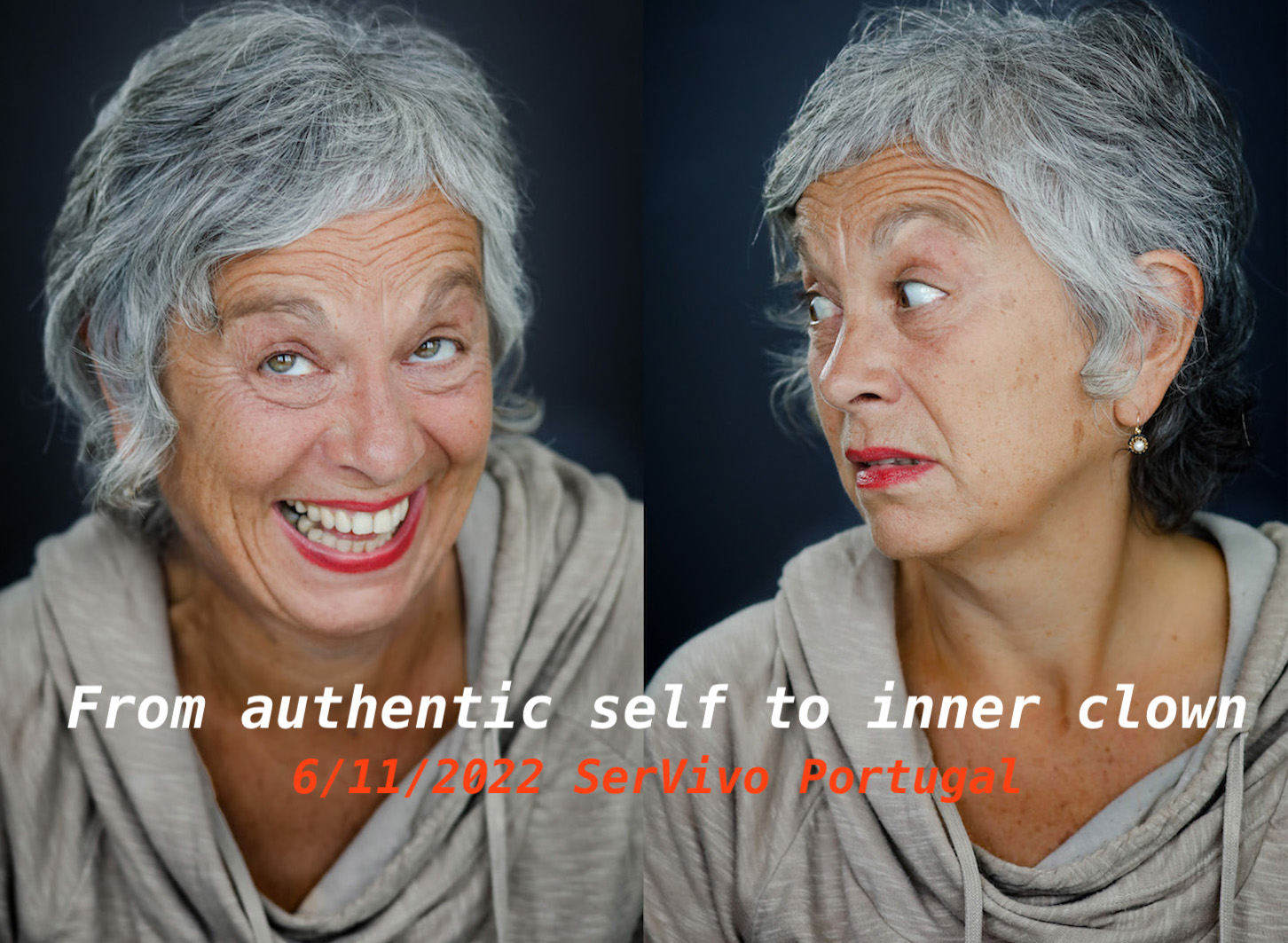 Authentic Self to Inner Clown
If you want to know if this workshop is for you, first ask to yourself the following questions:
Do I want to deepen authentic relating with myself and with others?
Do I like to play and express myself fully?
Am I ready to show my vulnerability and make fun of myself?
If you answered YES at least once, you can keep on reading…
In the course of our lives, we tend to repress our childhood playfulness and spontaneity, we learn to protect and conceal our inner world from other human beings. Yet we all share a need for deep, fluent and zestful relatedness. We all share the desire to play while expressing our fancy and connecting with our fellows.
To answer this conflict, I designed the class From authentic self to inner clown as a playful exploration of ourselves and of others towards more freedom, more awakening and more creativity. I use key principles stemming from Authentic Relating movement to let emerge our desires and to welcome our vulnerability…I have combined this with technics and games that I learned throughout my long experience of clowning to help awaken our ingenuity, our playfulness, our boldness and express our weird side.
These two practices both aim to re-connect us to our radical honesty while inviting us to be fully aware in the present moment of our emotions, sensations, thoughts and to share them with others.
The characteristic of the clown lies in exaggerating all these feelings to the point they become extreme and ridiculous. By doing so and making the audience laugh, it gives us the opportunity to fully accept our stupidity, weaknesses, awkwardness, shame, etc… as they turn into gifts to others and to ourselves. Together, it expands our sense of freedom and gives more space to express our power, brightness and fantasy.
Clowning is a hymn to the greatness and the disuse of human beings.
My part will consist to create a safe and playful space of exploration, to invite you to face yourself, to lucidly scrutinize the subtle movements of your hearts and kindly bring them to the surface.
Come and embrace the fool in you to be fully you!
Contribution
60€
About the facilitator
Fabienne Gonzalez is a French clown-actress, director and teacher.
After her master degree in Chinese, she studied Beijing Opera for 2 years in Taïwan.
About twenty five years ago, she discovered the art of clowning and devoted herself to an intensive learning of this discipline (attending Philippe Gaulier's Drama School and Michel Dallaire's Clown School).
She also trained in martial art (Aikido), release techniques (body mind centering, feldenkraiss), yoga, contact-dance, taiqi, forro, 5 rythms, ecstatic, gaga dance and Lisa Nelson Tuning Score. She performed as a clown with various dance and theater companies and created 2 solos. She worked with theater directors and choreographers using improvisation and cross artforms, such as Ariane Mnouchkine, Robin Orlyn, Joao Fiadeiro, Julyan Hamilton, Marcus Borja, Joël Pommerat… She has been conducting many workshops in the world (France, China, Taïwan, Hong-Kong, India, Thailand, Portugal…)
Her teaching always looks for a good balance between playfulness and the acquisition of new skills and vocabulary.
She applies herself to creating a safe environment for participants to find their power and their vulnerability, and to be fully authentic. Her work involves deep personal exploration leading towards more awakening and freedom.
Inscriptions:
Whatsapp / Telegram
+33 613058279
Email