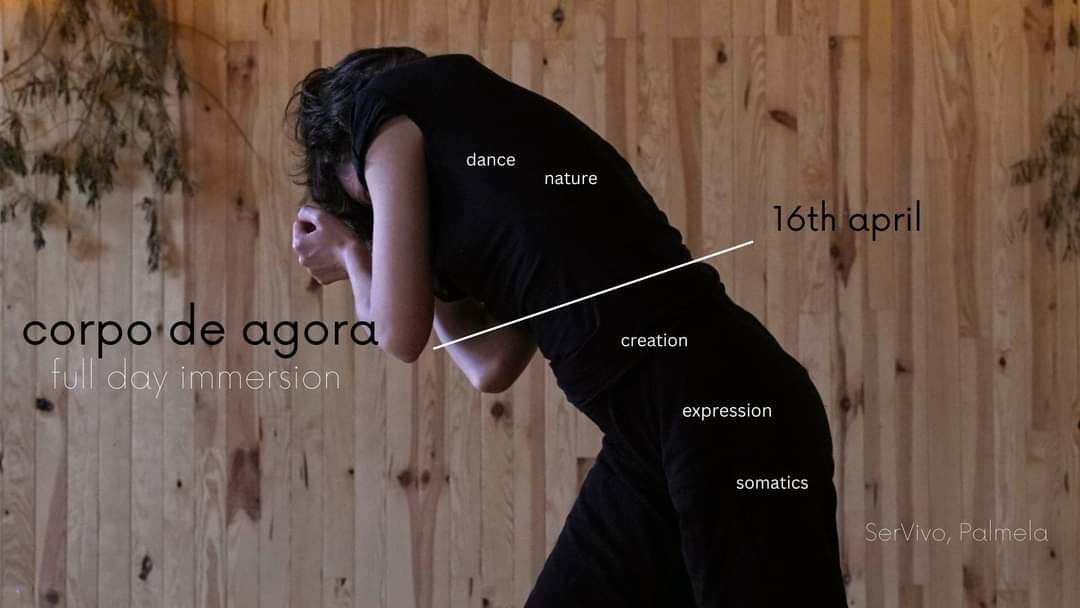 Corpo de Agora
Corpo de Agora is an invitation to connect with what is most visceral in us, that which inhabits the present moment, and to express it through a dancing, creative body, attentive to its present, past and future desires.
On this immersive day in the Corpo de Agora practices, we will be guided to meet our present body, in the quest to address ourselves – in our integral being.
The journey will be guided and supported by various tools, including somatic practices, dance, improvisation, creation and connection with nature. We'll seek to root, to create sky, stir the waters and the winds, encourage the integral, while opening space for the sacred and rite. Connect with our deepest nature, as we are.
This day is open to all those who are curious and interested in being present with and in the body. No prior experience in dance is needed, or in any other language of artistic expression, just a desire to investigate a body, that hosts so much. Whoever feels the call, this is for you.
*INFO*
Schedule: 11h00 – 19h30
Location: SerVivo, Palmela
Exchange Value:
* Sliding scale 40€ ~ 60€
* There are 3 spots available with reduced price
** These prices include snacks
Registration info: corpodeagora@gmail.com
This event/workshop is facilitated and hosted by Carlota Oliveira:
Carlota is a practitioner, researcher, artist, facilitator and learner, who transits with and from the body, in the fields of contemporary dance, contact improvisation and performing arts.
She's moved by the eternal movement of transformation in life, its everlasting mutable motion and constant evolution – and is dedicated to working with people from the most diverse experiences and backgrounds, in different fields.
In her academic path, she studied at Chapitô, Circus School, in Lisbon, at the Academy of Music and Theater Arts – Dance & Choreography in England and more recently at Companhia Olga Roriz, FOR Dance Theatre.
In her artistic body, the interest resides in the idiosyncrasies of the human being, in their relations with the world and their conditions in the Body.
Carlota has been developing work with communities, going through different levels and languages, with adults and children, as a facilitator and creator. In parallel, she works as a freelance dancer and performer.
She is the creator and nurturer of Corpo de Agora Immersive Retreats and has been actively involved in the Arrábida Dance Labs (Pedro Paz – Move in Touch) since its birth in 2017. She has been an active member of the SerVivo community since its birth.