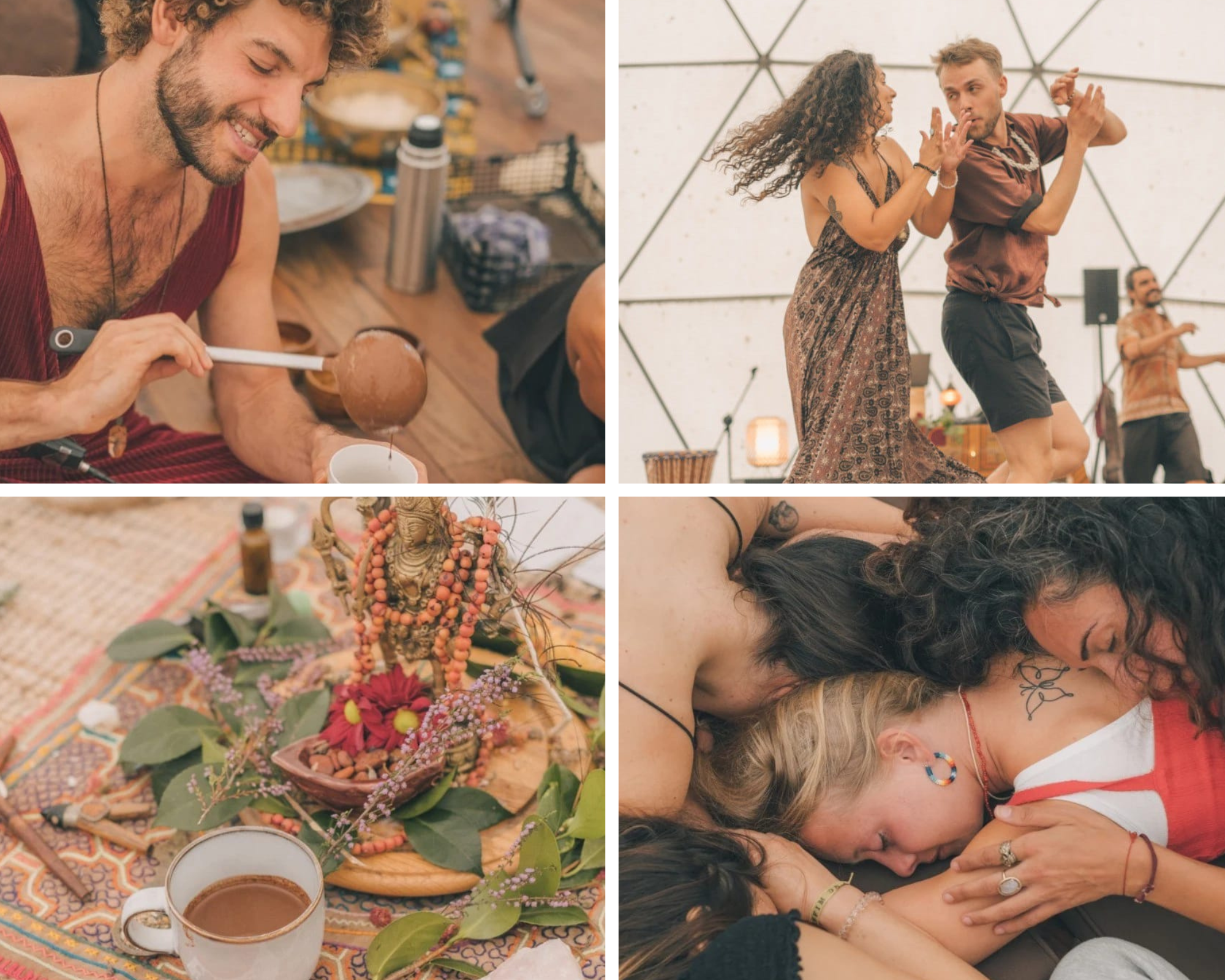 Coracao de Cacau w/ Momo
sᴀᴄʀᴇᴅ ᴄᴀᴄᴀᴏ ᴄᴇʀᴇᴍᴏɴʏ | ɢᴏɴɢ ʙᴀᴛʜ | ᴇᴄsᴛᴀᴛɪᴄ ᴅᴀɴᴄᴇ | ᴇᴍʙᴏᴅɪᴇᴅ ʜᴇᴀʀᴛ ᴄᴏɴɴᴇᴄᴛɪᴏɴ & ᴍᴏʀᴇ.
💫 𝑻𝒉𝒆 𝑷𝒐𝒓𝒕𝒂𝒍 𝒊𝒔 𝒐𝒑𝒆𝒏 💫
A special Gathering where we will celebrate life.
"𝑻𝒉𝒆 𝒉𝒆𝒂𝒓𝒕 𝒊𝒔 𝒂 𝒕𝒉𝒐𝒖𝒔𝒂𝒏𝒅 -𝒔𝒕𝒓𝒊𝒏𝒈𝒆𝒅 𝒊𝒏𝒔𝒕𝒓𝒖𝒎𝒆𝒏𝒕 𝒕𝒉𝒂𝒕 𝒄𝒂𝒏 𝒐𝒏𝒍𝒚 𝒃𝒆 𝒕𝒖𝒏𝒆𝒅 𝒘𝒊𝒕𝒉 𝑳𝒐𝒗𝒆" 𝑯𝒂𝒇𝒆𝒛
Come and experience the special energy created by Coração de Cacau.
A space of heart connection where you can arrive in your heart and body, feel yourself and express yourself freely.
A timeless space for dance and connection to both find and lose yourself.
We will dance on a 𝐛𝐞𝐚𝐮𝐭𝐢𝐟𝐮𝐥 𝟐𝟎𝟎𝐦𝟐 𝐰𝐨𝐨𝐝𝐞𝐧 𝐝𝐚𝐧𝐜𝐞 𝐟𝐥𝐨𝐨𝐫.
We will meet in a cosy and warm space for this cosmic journey.
𝐓𝐡𝐞 𝐒𝐚𝐜𝐫𝐞𝐝 𝐌𝐞𝐝𝐢𝐜𝐢𝐧𝐞 𝐨𝐟 𝐨𝐮𝐫 𝐌𝐚𝐦𝐚 𝐂𝐚𝐜𝐚𝐨 will as always be the anchoring point of this Journey, settling us deep into our Hearts so that we can expand from that Sacred place.
𝐉𝐮𝐦𝐩 𝐰𝐢𝐭𝐡 𝐮𝐬 𝐢𝐧𝐭𝐨 𝐭𝐡𝐞 𝐎𝐜𝐞𝐚𝐧 𝐨𝐟 𝐋𝐨𝐯𝐞.
Inscription link will follow.