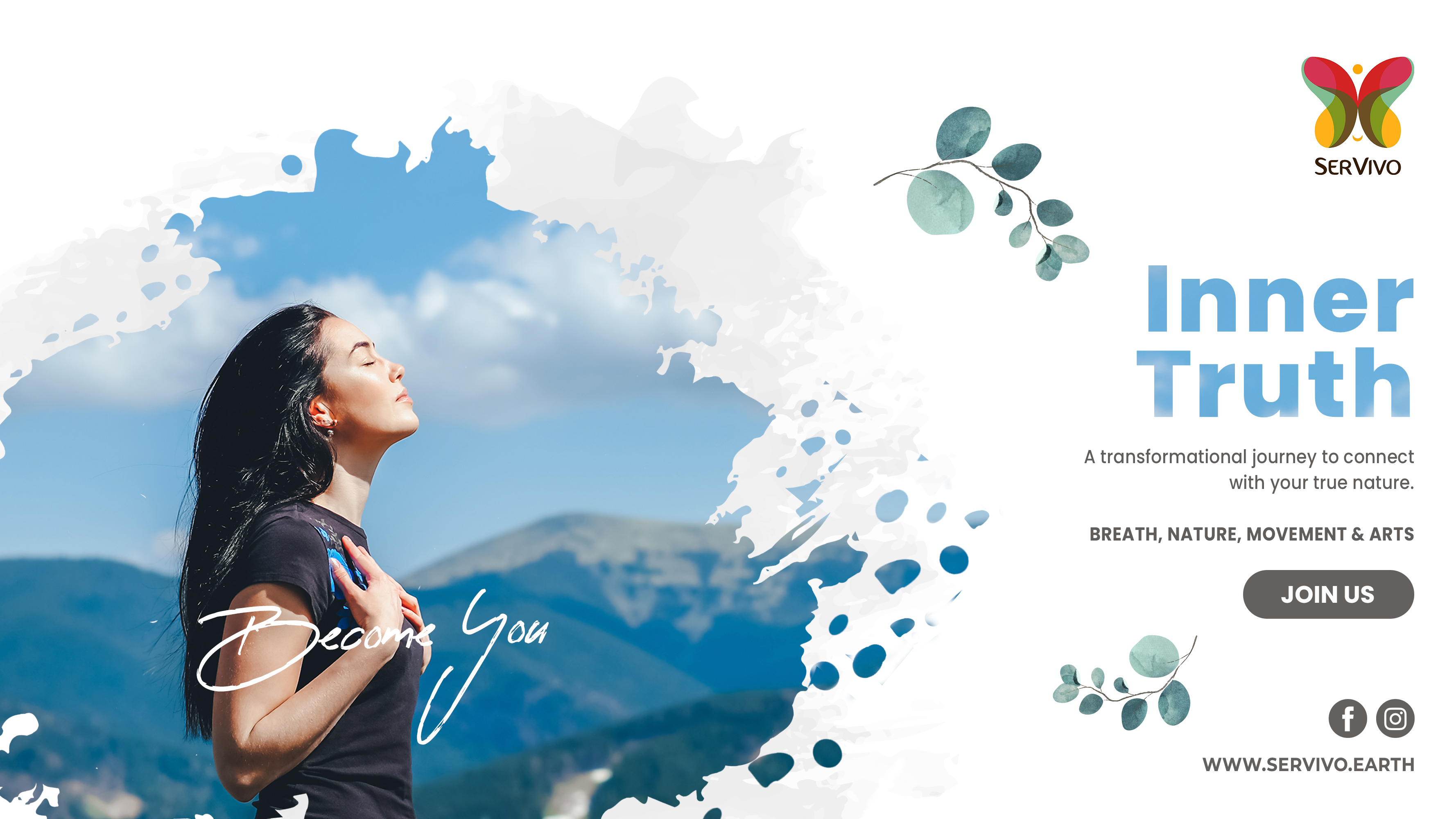 INNER TRUTH
🌿 INNER TRUTH 2nd edition
with Bastian Fenske & Margarida Batista
Friday 17th till Sunday, 19th June
Register here: https://form.jotform.com/221373617367358
We are Margarida and Bastian and we invite you into a journey of transformation. Within the beautiful nature of the Serra da Arrábida, we want to support you on your path towards a life of conscious purpose and authentic connection. To expand your capacity to allow all experience, and to respond to it with clarity through your heart.
Date: Friday, 17th June, 18:00 till Sunday, 19th June, 22:00
Venue: SerVivo, 45km South of Lisbon
Contribution: Sliding scale from 350 to 200 Euros including accomodation in dorms and vegetarian meals.
Contact for questions: inner-truth@servivo.earth
Here are the main tools we are working with:
✨Breathwork & Movement✨
At many points in our past, we blocked our natural expression in one way or the other. This might be the expression of our anger to set boundaries or to take a stand. This might be the expression of fear or sadness, or the expression of joy. It might have been to reach out, to express our needs, to ask for support, to try something new and to risk to make a "mistake", to play, to explore, to express our love, to fully relax. Through breathwork, movement, bodywork, sound and emotional expression we set a framework that opens a door for you to bring into flow again this stuck energy in your physical and emotional body and to open the pathways for your natural expression and relaxed perception.
✨Nature✨
Together we will go to nature. Blindfolded. Opening, activating our senses. Smelling, touching, listening. Re-connecting with the nature. Tree nature, bird nature, wind nature, earth nature, human nature.
✨Inner & Outer Navigation✨
Throughout this retreat we will practice to share what moves inside of us in that moment and to gain more clarity about the different states, aspects, parts and layers within us. Without clarity about our inner movements we will unconsciously navigate to the same old places and find ourselves again and again in our so well known struggles. Unconscious stories, unconscious emotions, shadow purposes and confusion will drive our lives instead of us being able to do what we came here for.
✨Shamanic initiation journey in Nature✨
On Sunday we will go into the forest into a shamanic ritual as a doorway of transformation. This is a doorway to leave behind layers of what you thought you are or what you thought you should be. A doorway into the experience of your wild and loving nature. Your inner truth.
✨Express Yourself✨
Our transformational journey is an inner journey. But we are not doing it only for ourselves. We are bringing our gold, our gifts to the community. We show up with the steps we have made. We will use colours, words and movement to express ourselves, to show our inner work to our temporary tribe. We will be seen, witnessed and acknowledged for what we are.
✨Connect with your Purpose✨
With the work that we have done, we might see more clearly what we are here for. What is my unique gift to the tribe, to the community, to the world? What am I here for?
* Facilitators Description *
🌿Margarida B
My name is Margarida. I know that we are much more than we think we are. We are magicians. We can transform our lives and heal ourselves with our thoughts and emotions. We can shift reality that surrounds us. Everything begins inside of us.
As a child I was a very passionate observer of the natural world. I could just watch an ant for hours, making up stories of how they would live in the tunnels inside the earth. This brought me a lot of inner silence and stillness. In my youth I started having visions of some of my past lives. Allowing to understand myself in another different level. I started to see how all is interconnected. Past, Present and Future all happening at the same time, sensing the time in a whole different perspective.
I have a degree in Materials Science and Engineering, but always loved the arts, so at some point of my life I decided to drop all that institutional work and with my family we went to the Azores Island and changed completely our lives. I started creating my own performances and soon enough a clown in me was born and from there it was all a small step for becoming a hospital clown. I did that for over 7 years.
It makes me happy to create safe spaces for people to be themselves without shame, to bring to live the child within and to awake the creative and imaginative side.
My offerings to the world are joy, love and sensitivity.
E-mail: soul.nature.healing@gmail.com
Phone, Telegram, WhatsApp: +351 915 812 454
🌿Bastian Fenske
My name is Bastian Fenske. I dedicate my life to the expansion of love and consciousness – within me and as a service. I take a stand for a new culture. The foundation of this culture is the experience, that each one of us is a beautiful part of a huge dance of all life on planet earth. We are nature, we are connected with all life and everything around us. And it is our uniqueness that makes us beautiful. And this uniqueness is in its nature unknown. Unknown to our own mind. We cannot define it, we cannot hold it. We can only live it. It is just happening and we are experiencing it in the same moment that we are expressing it. Life is happening through us in a way that is unique for every single human being.
I am holding space for healing and transformation.
I offer you to hold space for you and your process. The spaces I create might open doorways for you. Doorways to re-integrate parts that have been disconnected by you from your own conscious experience. I would love to empower you on your path to create an ongoing momentum of self-healing in your life. I offer you my support to re-connect with your feelings in a conscious way, to clean-up the old stuff that messes up your life and your relationships, to take a stand in the world, to awake the warrioress, the warrior in you and the sourceress and magician.
My bright principles are Love, Healing, Clarity, Empowerment and Integrity.
Some of my teachers and modalities, that I have studied:
Rico and Clara Lang (Dance and Expression Therapy), Giten Tonkov (BioDynamic Breathwork & Trauma Release System, BBTRS), John Perkins (Shapeshifting), Ipupiara (Ureu-eu-wau-wau Shaman), Don Esteban, Don Rosé and Don Estebán Tamayo (Shaman de Ilumán), Shanti Petschel (Vision Quests, Rites of Passage), Joanna Macy (Deep Ecology), Clinton Callahan and Anne-Chloé Destremau (Possibility Management), Regula Pfeiffer and Udo Wendel (Aikido, Zen) and many others. I am father of 3 sons.
E-mail: info@bastian-fenske.eu
Phone, Telegram, WhatsApp: +351 936 487 275