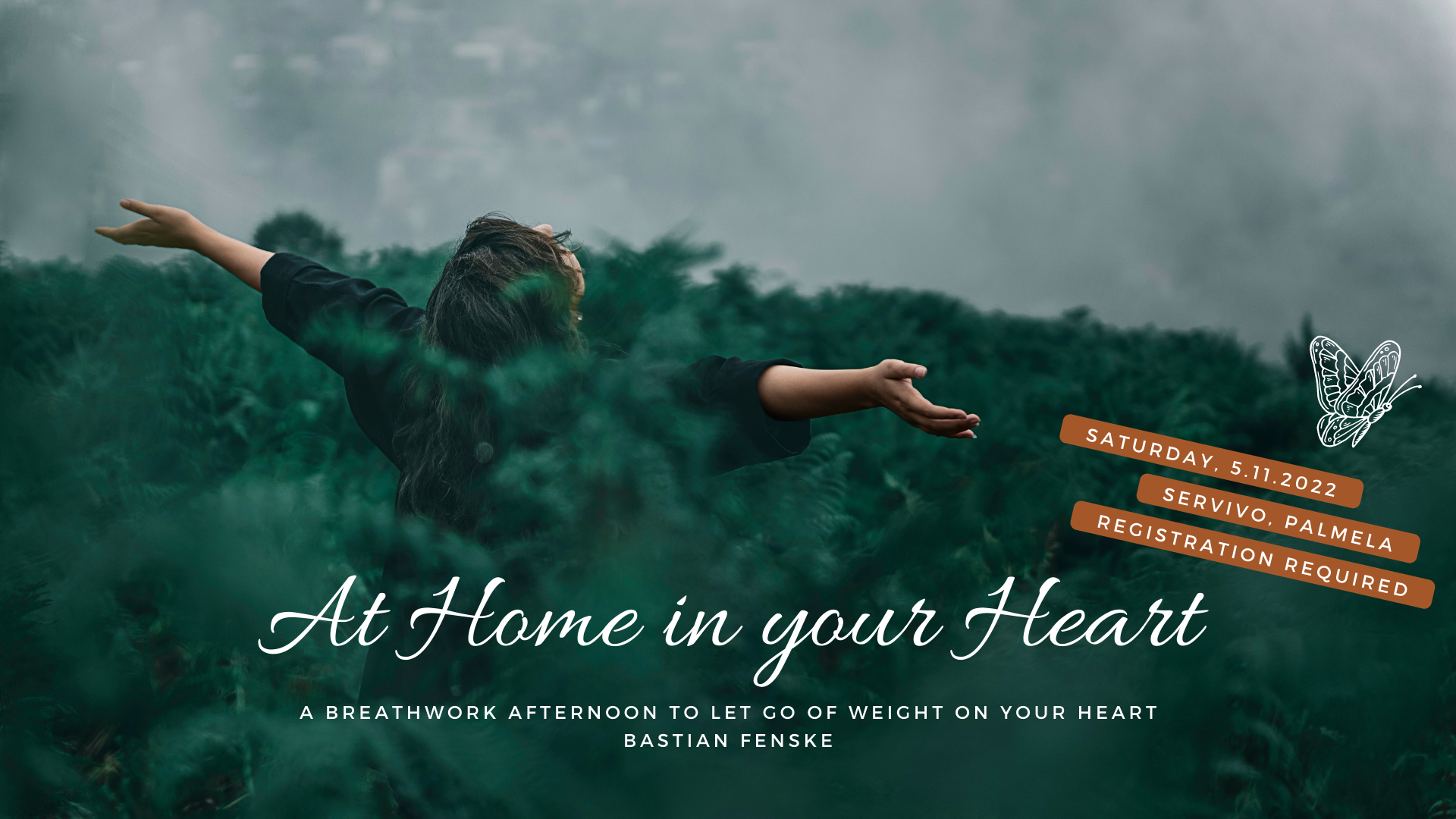 At Home in Your Heart
At home in your heart
Breathwork to let go weight on your heart
* Registration required. Please read below *
When our natural flow to give and receive love through our heart has been restricted in our childhood, or when painful or traumatic events have been repressed, our life-energy becomes constrained by physical holding-patterns. Our breathing reduces, our body armour or tension increases, and we feel ourselves locked into patterns of behaviour we know we really want to escape from. It is through the breath that old physical tensions, traumas, and emotional patterns can be freed from the body-mind and cellular healing can occur.
Connection with our authentic self begins with coming back to our breath.
The BioDynamic Breathwork & Trauma Release System (BBTRS) is a profound system of body therapy. It integrates non-cathartic deep connected breathing with specially designed body awareness techniques, bodywork and meditation.
We invite you into a journey with focus on the heart and the thoracic belt of tension.
Date: Saturday, 5th November, 15:00 to 20:00
Contribution: Sliding scale 35 – 65 Euros (if money is an issue for you, please talk with me)
The number of participants is limited. To register, please fill out the following form:
https://form.jotform.com/bastian_fenske/at-home-in-your-heart-2022-11
Spaceholder: Bastian Fenske, Margarida Batista (assistant), Saija Jäntti (assistant).
Bastian Fenske is facilitator for dance an expression therapy, BBTRS online practitioner and BBTRS practitioner in training. Please find more about him here:
https://www.servivo.earth/teachers-facilitators/#bastian
Testimonials:
"After the work with Bastian I felt harmonized and balanced in my body, and my mind didn't interfere with the process. The release I felt in my body was gradual and smooth, and only after the session I realized how much it has been released from my body, as I felt light, balanced and tuned. Maybe due to not having triggers from my body, my mind also followed this calm and harmonized state of being.
Thank you Bastian for your work and this opportunity."
Diana Dinis
"Bastian led a beautiful journey through a series of practices that helped me feel more open, grounded, and connected. Breath and bodywork, dance, movement, beautiful sounds, and human connection made for a lovely evening.
Bastian, you are passionate and authentic and made everyone feel at ease. Thank you!"
João Clemente