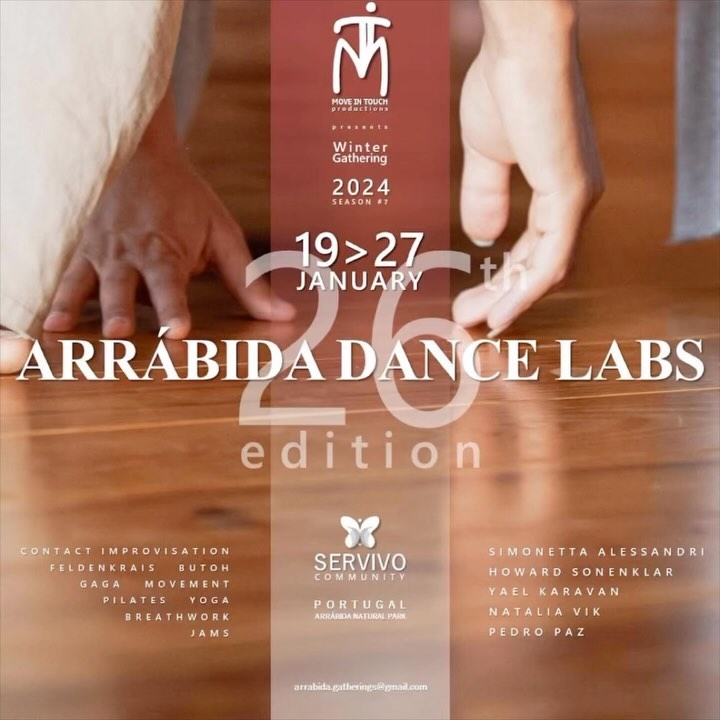 ARRÁBIDA DANCE LABS – 26th Edition
🚀
*The 26th Arrábida is LAUNCHED*!!
It is with great enthusiasm that *Move In Touch | Productions* publicly presents:
📯
*ARRÁBIDA DANCE LABS | 26th Edition*
🐬
*19 > 27 January*
*2024*
This *9-day Residency*, dedicated to Conscious Movement and the creative interactions that body-to-body contact offers, takes place in one of the most beautiful Natural Parks in *PORTUGAL*, bathed by the Atlantic coast of Greater Lisbon.
It happens in the middle of each season.. ❄️🌸☀️🍂 so every Gathering is unique!
This will be our seventh *Winter Gathering*, known for being very special and a favorite of the participants who always return to the warmth of the fireplace and the dancing bodies.
••• Art Team •••
teachers
*Simonetta Alessandri* (Italy)
*Howard Sonenklar* (USA)
*Yael Karavan* (Israel)
*Natalia Vik* (Norway)
*Pedro Paz* (Portugal)
musicians
*Nuno Pereira* (Portugal)
*Michael Sebastian* (UK)
supporting artists
*Cláudia Ambrósio* (Portugal)
*Diana Jost* (Switzerland)
*Fausto Matias* (Portugal)
*Jo Bruhn* (Germany)
*Teresa Manjua* (Portugal)
••• 🌬️🪵🔥•••
*+ INFOS & BOOKINGS:*
https://forms.gle/ssgrMVqfQGo1imTcA